Keith Josey
Keith Josey's love of billiards, woodworking, and fine craftsmanship are a gift from his father, a skilled woodworker and custom homebuilder. It all began during his boyhood years, when Keith often helped out in his father's woodworking shop. It was here, under the study of his father, that he learned both the skill of fine woodworking and a penchant for perfectionism. Similarly, at the close of many a working day, Keith, his father, and four brothers would play pool together at the local billiard hall. This fostered a deep enjoyment of the game that Keith maintains to this day. Keith's wife, Sherri, also grew up with a fondness of billiards because of their family home billiard table.
Certainly, quality and craftsmanship are an identifying trait of every hand-signed Josey Custom Cue. For example, with the exception of the tips, bumpers, and screws, Keith makes every component of his cues. All ferrules, collars, and butt caps thread on for more secure construction. Keith prefers a forward balanced cue with a solid stiff hit. He turns his shafts eight times over a six month period, dipping them in a wood stabilizer after each turning. To ensure against warpage, spliced cues often sit for a month or more. Importantly, in his quest to build the perfect playing cue, Keith began using a slimmer joint and butt diameter in 1994.
In addition to superior playabilty, Josey Custom Cues are a treat for the eye. In fact, Keith's love of wood is very apparent when one closely examines a finished cue. Rare, beautifully patterned woods gleam under a painstakingly applied, mirror-like finish. Inlays, using precious materials such as mother of pearl, exotic woods, turquoise, and malachite, further decorate each Josey Cue in intricate one-of-a-kind designs. Taken as a whole, each cue represents the excellence of form and function that is the hallmark of Josey Custom Cues.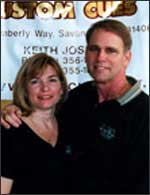 Don't Forget, We Offer: