NEW DVD - "A Lesson with John Brumback"
By John Brumback
This DVD is 5 hours and 38 minutes long. John and Jim take you through 13 racks of short rack banks, 4 racks of full rack banks and 45 minutes of situations that come up when playing bank pool. If you play bank pool or want to learn to play Bank Pool you need this DVD!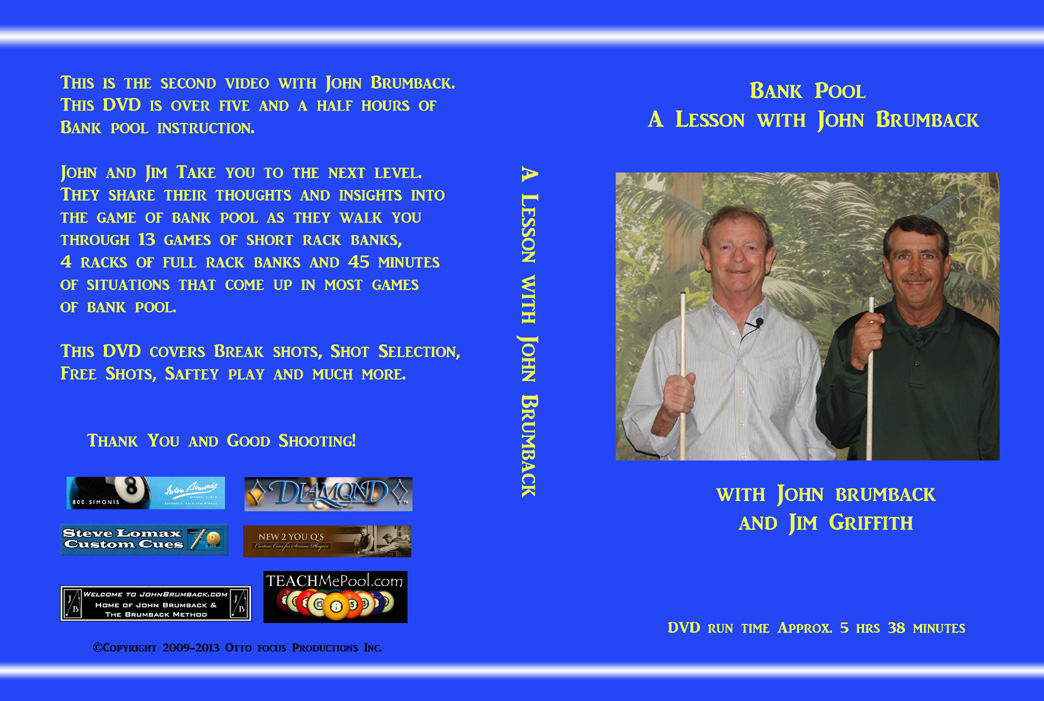 Order a copy today for only $49.95 plus $3.99 S&H
Add $4.00 for International Sales (use Paypal Button)

We accept PayPal for your safety and security
You can also use your credit card through the link
Click the "Buy Now" button above to check out.
"Bank Pool Secrects of a World Champion"
By John Brumback
John is a world champion bank pool player, he is probably the best bank pool player alive today. He shares his knowledge in a straight forward, no nonsense style in this brand new DVD. You will learn the secrets of good bank pool that have never been shared before. Get this DVD and you will improve your bank skills!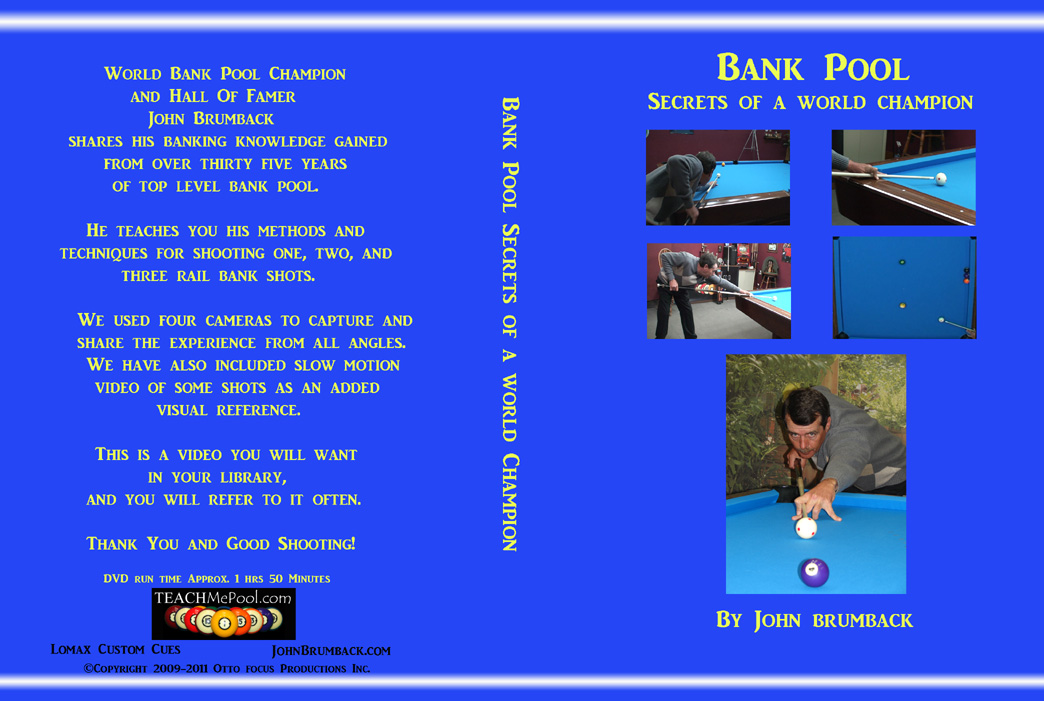 Customer Reviews
Customer #1
"I don't care what your game is - 8ball, 9ball, banks, 1pocket, even 14.1 -- you would have to be insane to pass it up. On this DVD, John, in his very laid back, easy to understand manner describes various banks shots and techniques and then demonstrates them. One, two, and three railers; sides and corners. You get to see them from various angles and in slow motion. At first I thought the repeated views of the same shot would be an annoyance, but it actually works to great effect, saving you from endless rewinding and pausing so that you can observe everything from the cueing, to the stroke, to what happens to the OB, where it hits the rail, and what the CB does. There are also some drills and John also works his way through a couple of racks all the while explaining his thought process.

A couple of other aspects of the DVD I liked were that there are even a couple of times John misses a bank but then makes a quick adjustment and nails it. I thought that brought a very human quality to the proceedings, unlike other productions where -- surprise -- the guy on the screen never misses. The other aspect I liked was, that most of the shots have practical, real game situation applications. These are not exhibition shots -- they're shots that come up all the time, that we've all seen, but cannot execute with consistency and John explains why. (Having said that, there are a couple of shots that will, at first glance, leave you a little incredulous.)

I wrote a long time ago about the benefits of playing and observing great players, likening it to the opportunity of watching a magician perform a magic trick over and over again right before your little peepers. And that's what's happening on this DVD. Yes, there are the bank shots and associated techniques, but for those so inclined, within this DVD there is also the opportunity to pick up on a couple of other techniques John does not specifically address, but are on display to the discerning viewer." ~ Lou Figueroa
Customer #2
I have a few, humble comments on John's CD... especially after some of the comments on AZ. First off I ordered the CD mid to late Friday and to my surprise it arrived Monday! Excellent service!!! Better service time than Ozone, Pool Dawg and other suppliers that I have ordered from in the past. EXCELLENT! Reviewed the CD a little on Monday. The presentation John puts out is practical and laid back. Refreshing! Production rating.. EXCELLENT. Practiced just a few of the principals (1-2 things for maybe 3 or 4 shots) total on Monday. Reviewed the information on and off yesterday (Tuesday) and played some APA 9 ball last night. I found myself "looking" for bank shots, a very rare thing for me to do. Thanks to John's CD, during the match I "found" about 10 playable banks. Made 8 of them and rattles the other 2!!! The improvement in my banks... I would rate as... EXCELLENT. But... here's the best part. Had 3 players, including my opponent comment on what an excepitional bank player I was!!! Before John's CD I might hit 1 or 2 out of 10 attempts! The pride I felt inside...was an EXCELLENT feeling!!!!!!!!! As far as some on AZ who feel $ 50.00 a little too excessive for a CD... The feeling I had last night as the balls fell and the compliments came.. PRICELESS! So, my opinion of John's CD. EXCELLENT, EXCELLENT, EXCELLENT... EXCELLENT and PRICELESS!
Order a copy today for only $49.95 plus $3.99 S&H

We accept PayPal for your safety and security
You can also use your credit card through the link
Click the "Buy Now" button above to check out.